PDK Watch Inc. is a 501(c)4 and community watchdog organization that seeks to protect established residential neighborhoods surrounding PDK Airport from damaging airport noise, pollution, and expansion. 
Fighting PDK Airport Noise, Pollution, and Expansion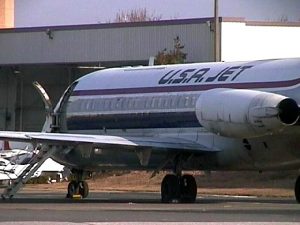 This DC-9 Jet parked at PDK Airport on March 4, 2004, weighs at least 90,000 lbs., holds up to 85 passengers, and is very noisy. Photo by Tom Swendiman.
PDK Watch Inc. is a community watchdog 501(c)4 organization that seeks to monitor and reduce damaging noise and pollution caused by Peachtree-DeKalb Airport (PDK) that impacts approximately 100,000 residents of northeast Atlanta. PDK Watch and its predecessor groups since the 1970s also support DeKalb County's longstanding policy of maintaining PDK Airport as a CII general aviation facility that does not allow regularly scheduled passenger service or additional expansion beyond the Airport's existing fenced perimeter.
To achieve its objectives, PDK Watch maintains close contact with the Airport Director and the DeKalb County Commissioners about PDK issues that may negatively impact the surrounding community.  When necessary, PDK Watch also mobilizes its supporters, who can rapidly generate hundreds of email messages and calls to the County Commissioners about issues of public concern.
For further information, contact Larry Foster, Communication Director, PDK Watch Inc., at larry.foster@earthlink.net.
To report disturbing aircraft noise, call the PDK Noise Hotline at 770-936-5442
To get further information about disruptive aircraft, view pdf.
For related concerns, view Open Dekalb, Inc.